By Dan Margetta
Slinger, Wis., June 18—Steve Apel drove to his second feature victory of the season Sunday night in the 60-lap super late model main event on Scout Night at the Slinger Super Speedway.
The car was on rails tonight," Apel said afterwards, "We came here on Thursday and tested when it was 95 degrees so we knew if the car was good then it would be good in a long race. The guys busted their tails to give me the best car they could give me and it's the probably the best car I've had all year."
While Apel took the checkered flag relatively unchallenged, the battle behind him for second was intense with Alex Prunty edging Gary LaMonte for the runner-up spot at the finish.
"Nobody wants to win here more than I do," Prunty told the crowd following his second place finish, "I'm happy to be here but like I said last week, it sucks finishing second, it sucks finishing third, everybody comes here to win and that's why we're here. It's been frustrating but we're getting there and we are getting close."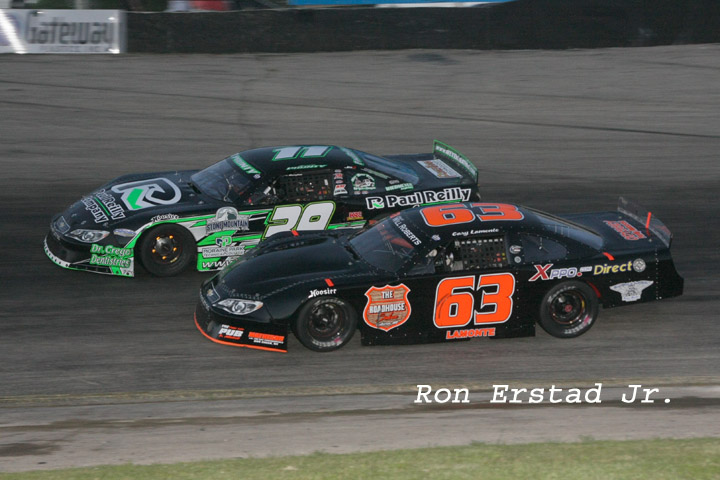 "We just got a little tight on the bottom and I thought we may have had something to the checkered flag, "said LaMonte after his side by side dual to the finish with Prunty from which he emerged with a third place finish, "But some lapped cars got in the way and Alex (Prunty) just beat us back to the line."
Jordan DeVoy kicked off his super late model debut at the Slinger Speedway by charging from the pole position to lead the early laps of the 60-lap main event. Alex Prunty settled into second place as Steve Apel, Gary LaMonte, and Dennis Prunty all worked their way towards the front from the middle of the pack. Prunty caught DeVoy by lap six and used an inside pass to take the top spot one lap later as Apel began to close on DeVoy for second. Apel worked his way into second a few laps later just before the first and only caution flag of the race waved on lap 21 when Dave McCardle experienced a mechanical issue and slowed in turn three. Alex Prunty chose the outside lane for the restart, leaving Apel the bottom while Dennis Prunty lined up outside of LaMonte in the second row. Apel was able to get a strong run off turn four as racing resumed and when Prunty's car kicked slightly loose, Apel was able to power by to take the lead on lap 13. Behind the lead duo, LaMonte and Dennis Prunty staged an intense battle for third that LaMonte eventually won after several laps of hard serious racing. Once clear of Dennis Prunty, LaMonte began to track down Alex Prunty for second as Apel maintained his lead. Lapped traffic proved not to be an issue in the closing laps as Apel drove to his second feature win of the season while Alex Prunty edged LaMonte at the stripe for second. Dennis Prunty finished in fourth place and Brad Keith completed a strong race with a solid fifth place finish. Brad Mueller finished in sixth just ahead of Jordan DeVoy and Grant Griesbach while Chris Blawat and Fred Winn rounded out the top ten.
Braison Bennett won the 30-lap super late model semi-feature over his father Lowell Bennett while R.J. Braun finished third to transfer to the main event in his super late model debut. Jerry Eckhardt finished fourth to claim the final transfer position and Tyler Hromadka finished fifth in his super late model debut. Super late model heat races were won by Lowell Bennett, Conrad Morgan, and Alex Prunty while Steve Apel was the fastest qualifier with a lap of 11.330 seconds.
Paul Wagner took the lead on lap nine and never looked back as he drove the victory in the 30-lap Area Sportsman feature, holding off a fast closing Jake Schraufnagel at the checkered flag. Schraufnagel was forced to settle for second place just ahead of Jay Kalbus in third. Andy Wendt and Joe Shelby completed the top five finishers in fourth and fifth respectively. Andy Welter was the winner of the Area Sportsman heat race and Jay Kalbus was the fastest qualifier at 12.927 seconds.
Tom Berens edged Steve Zoromski in a photo finish to win the 25-lap Slinger Beez feature event. Berens and Zoromski raced door to door over the final five laps with Berens just edging ahead at the finish. Zoromski led 23 of the 25 laps of the race and finished a close second while Jayden Buckley was third. Brandon Tackes finished fourth and Al Strobel was fifth. Jayden Buckley won the Slinger Beez heat race and Tom Berens was the fastest qualifier with a lap of 13.737 seconds.
Tom Elsinger Jr. captured his first career feature victory in the 25-lap Slinger Bee main event, holding off a fast closing Matt Urban by a fender at the finish. Urban finished a close second and Carl Benn was third. Marty Tackes and Al Strobel rounded out the top five. Slinger Bee heat races were won by Paul Reagles and Tom Elsinger Jr. while Carl Benn was the fastest qualifier with a lap of 15.272 seconds.
Trevor Dassow won the Spectator Eliminator races and Rick Bruskiewicz won the Figure 8 race to close the evening.