The Slinger Nationals is not just another short track race, it's an annual tradition rich with history.  A staple of the Midwestern short-track racing scene, the Nationals have a long history of being a proving ground for the best super late model competitors. Past Nationals' winners include notable drivers; Matt Kenseth, Kyle Busch, Lowell Bennett, Conrad Morgan, Mark Martin, Rich Bickle, Butch Miller, Joe Shear, Alan Kulwicki and Dick Trickle.  The trophy carries the name of the first winner, Larry Detjens.  
Held on a Tuesday in early July, the Slinger Nationals is an event that racers and fans travel from all around the country to attend! Four-time winner Rich Bickle:  "What can I say, it's one of the top short-track races in the USA! To win four Nationals is amazing, and hard to believe in the day!  To think I've been able to race with the greatest in the world at Slinger Speedway - it just doesn't get any better than that!"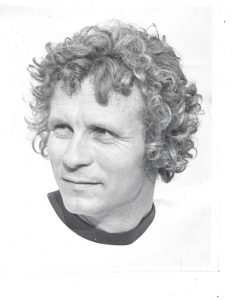 by Fr Dale Grubba
Charisma. Larry Detjens, the winner of the first Slinger Nationals in 1980, had it in abundance. His curly, prematurely grey hair, his smile had fans gathering around his hauler every race date. The meticulously prepared purple and blue race cars that emanated from his Detjens' Auto Body shop and the fact that the early ones were Dodge Challengers drew everyone's attention. When he switched to Chevrolet the "I wish I Were a Mopar" on the rear spoiler stated his first love. His was the first short track team to wear uniforms, purple shirts and white pants. He was respected by all he raced against, Dick Trickle, Tom Reffner, Marv Marzofka, and Mike Miller.
Detjens was born in Port Washington, Wisconsin but by his high school year found himself living in the Wausau area where he competed as a rodeo bull rider. In the winter he could be found skiing on Rib Mountain where he qualified for the Junior Ski Nationals three times and the Senior level once. After graduation he served as a ski instructor. Detjens began his racing career in 1967 in a Dodge hobbystock car. "It started off as a hobby and ended up as a business," he was fond of telling people. It didn't take long for him to ascend to the top levels of short track racing.
In 1980 he won the first Slinger Nationals. Before his untimely death in a racing accident in 1981, Detjens was having an outstanding year. Wisconsin short track racing lost one of its brightest stars whose future was unlimited. In his memory, the winner of the Slinger Nationals earns the Larry Detjens Trophy.
"Whether it is skiing or racing, I enjoy the competition. I love that close contact. It is the thrill of racing. It is the greatest feeling on earth to be out on that track side-by-side with someone, testing every nerve and skill in your body."  Larry Detjens, Summer of 1981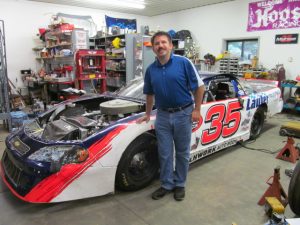 by April Anderson
Friend, fan, crew member, crew chief and son were just some of the hats that Chris McIntee wore. There has been no other person that could light up a speedway or the pits the way Chris did. His personality and smile was unlike anyone else.  I have never met a fan more dedicated to his favorite drivers:  his father, Pat, and Matt Kenseth.  His passion for racing and family is what made Chris who he was.  Chris was a friend to everyone.  When Chris unexpectedly passed away in 2015 at the age of 42, I knew his memory needed to continue.  So after a lot of thinking, I approached Todd Thelen and Rodney Erikson, asking if they could name a trophy after him. Other than the Opener, Chris' favorite race was the Nationals.  I knew the main trophy was already taken, so the next best trophy was the transfer trophy into the big race.  I knew Rob Braun had a special relationship with Chris and would be the person to help me get this done.  Rob designed the trophy and also purchased the first one.  Our dream became a reality and it was ready for the Nationals.  
In 2016 the first Chris McIntee Trophy was given to the winner of the Nationals Qualifying Race. The first winner was not only a Slinger regular, but a good friend to Chris:  Alex Prunty (#11 Super Late Model). At the end of the races each week Chris and Alex used to walk together to get the payout; this was their special time. 
One other special thing about this trophy that most people do not know is that every year Chris' parents, Patrick and Patricia, give the trophy to the winner.   To this day, I can see Chris cheering his heart out and I hope his memory will last forever in our hearts with this trophy. 
Slinger Nationals Winners
| | | |
| --- | --- | --- |
| Year | Feature - Larry Detjens Trophy | Qualifying Race - Chris McIntee Trophy |
| 1980 | Larry Detjens | -- |
| 1981 | Alan Kulwicki | -- |
| 1982 | Dick Trickle | -- |
| 1983 | Dick Trickle | -- |
| 1984 | Mark Martin | -- |
| 1985 | Dick Trickle | -- |
| 1986 | John Ziegler | -- |
| 1987 | Joe Shear | -- |
| 1988 | Butch Miller | -- |
| 1989 | Dick Trickle (4) | -- |
| 1990 | Joe Shear | -- |
| 1991 | Joe Shear | -- |
| 1992 | Rich Bickle, Jr | -- |
| 1993 | Joe Shear (4) | -- |
| 1994 | Matt Kenseth | -- |
| 1995 | Butch Miller (2) | -- |
| 1996 | Rich Bickle, Jr | -- |
| 1997 | Lowell Bennett | -- |
| 1998 | Tony Strupp | -- |
| 1999 | Conrad Morgan | -- |
| 2000 | Lowell Bennett | -- |
| 2001 | David Prunty | -- |
| 2002 | Matt Kenseth | -- |
| 2003 | Rich Bickle, Jr | -- |
| 2004 | Lowell Bennett | -- |
| 2005 | Nathan Haseleu | -- |
| 2006 | Matt Kenseth | -- |
| 2007 | Lowell Bennett | -- |
| 2008 | Matt Kenseth | -- |
| 2009 | Matt Kenseth | -- |
| 2010 | Lowell Bennett (5) | -- |
| 2011 | Kyle Busch | -- |
| 2012 | Matt Kenseth | -- |
| 2013 | Rich Bickle, Jr (4) | -- |
| 2014 | Chris Wimmer | -- |
| 2015 | Dennis Prunty | -- |
| 2016 | Matt Kenseth | Alex Prunty |
| 2017 | Bubba Pollard | Brad Mueller |
| 2018 | Ty Majeski | Dan Fredrickson |
| 2019 | Matt Kenseth (8) | Chris Weinkauf |
| 2020 | Ty Majeski | Derek Kraus |
| 2021 | Luke Fenhaus | Derek Kraus |
| 2022 | William Byron | Brad Keith |
| 2023 | Ty Majeski | William Sawalich |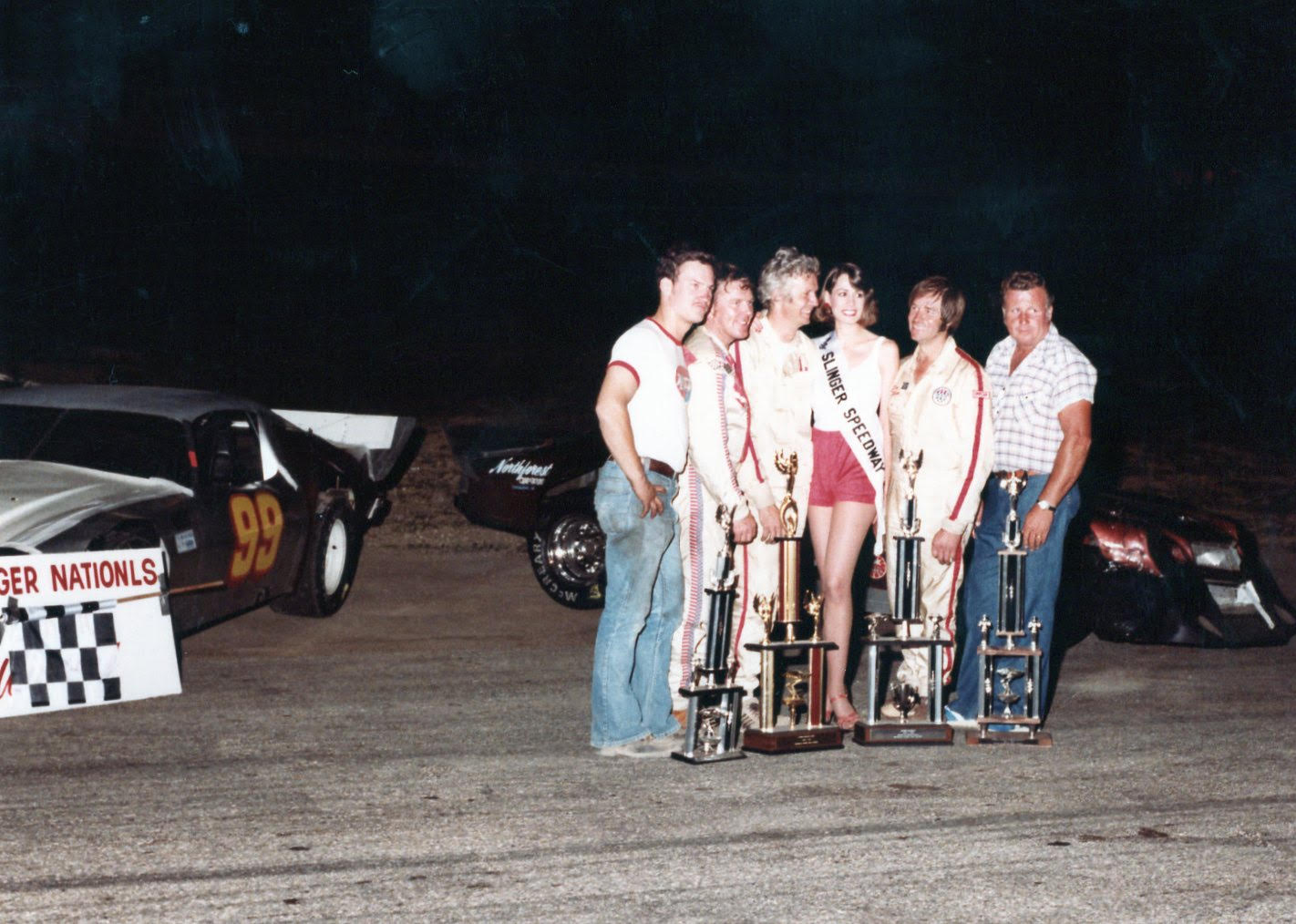 First Slinger Nationals, 1980 (Left to Right): Don Walter (Sportsman), Dick Trickle, Larry Detjens, Jean Gilligan (Miss Slinger), Joe Shear, Wayne Erickson