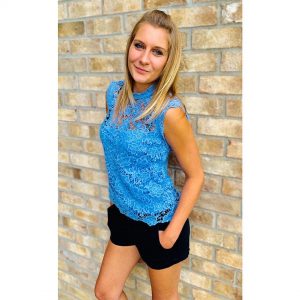 Miss Slinger 2020-2021
Rachel Taylor
In school I was an avid Soccer player and did Track & Field. Living on Lake Tichigan, I was on the water a lot and like to Wakeboard and I also enjoy Snowboarding. I went to Gateway Technical College, and have my real-estate license and currently work for Keller Williams Realty. My favorite food is pretzels with beer cheese. I like dogs and have a mini Golden Doodle named Copper. I enjoy fashion, the sun, cars and racing. I'm proud to represent the track as Miss Slinger Super Speedway!
Miss Slinger 2019-2020
Mikena Wantz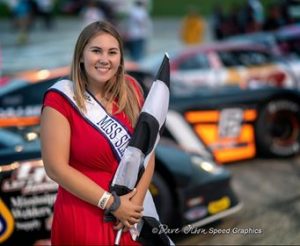 I wanted to become Miss Slinger Speedway for a couple reasons actually. I've been an outdoors girl all my life with motorsports right alongside it when it came to my interests. I have been going to the track since I was the age of one. My grandpa, Norman "Sags" Saegert, used to be the flag waver so some of my very first colors learned were through the flags he asked me to hand him. So a part of my decision was to carry out my grandpa's legacy there. Also, with me going there every Sunday out of my own interests, I thought it'd be nice to finally get to know the drivers I've been following on a more personal level and get a new experience on the track other than the stands. ~Mikena Wantz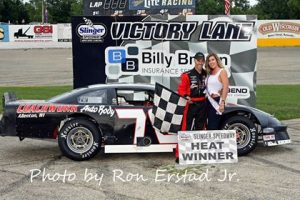 Miss Slinger 2018-2019
Kristy Held
Being Miss Slinger is so much more than a satin sash and a smile. It's sharing the excitement of a rookie's first win, or a veteran's 20th trophy. The pride beaming from the crew and family as they run down from the pits to share the moment. Helping the kids out of their car...or catching it as it rolls away. It's welcoming newcomers to the track and chatting with the season pass holders. Being a part of Slinger Speedway each week is my Sunday Funday. ~Kristy Held
The best part of being Miss Slinger...
Ashley Cridelich, 2015-2018
The best part about being Miss Slinger was honestly just meeting all the new people, both racers and fans. Plus actually being able to be on the track and getting to know all the racers on a more personal level rather than just "Oh hey, look that's so and so and he/she is in the lead". I love all the new friends I made. It was such a close-knit community and I liked to call it my race family.
Ashley Hoffmann, 2009-2012
The best part of my Miss Slinger experience was interacting with all the drivers who grew into friends. It was great interacting with everyone from the racetrack in general - fans, employees and drivers.
Sara (Olson) Dornbrook, 2004-2006 and 2007-2009
The best part was meeting so many people and gaining a whole new family! The track is a fun place to hang out and gain a ton of new friends! If you have interest in modeling/other pageants, this is also great to have on your comp card. It opened so many doors for me WAY back in the day in the four years that I did it. I have so many amazing memories and have met so many great people because of this opportunity! I am STILL there to help when I can so I can see everyone!!!
Amanda (Tackes) Andrasic, 2001-2002
The best part of my experience as Miss Slinger Speedway was the people I met and interacted with! The fans were amazing! The drivers and crew were like family! Finally the staff, safety crew and administration of the track kept things running smoothly and safely for everyone (including myself as I stood in the middle of the track enjoying the race - it was the best seat in the house!).
Kathy Peterson, 1985-1986
The best part of my experience was meeting and getting to know the drivers and the fans!
Jean (Gilligan) Killoren, 1981-1982
The best part was all the excitement; being in the middle of the track was fantastic!
Miss Slingers

Year

Name

1967

Kris Kazinski

1973

Gail Stoiber

1976-1977

Terri Gettleman

1977-1978

Marilyn Mee

1978-1979

Mickey Walters

1979-1980

Pattie Aiello

1980-1981

Kathy Wills

1981-1982

Jean Gilligan

1982-1983

Monica Rundell

1983-1984

Trina Seibert

1984-1985

Julie Mortag

1985-1986

Kathy Peterson

1986-1987

Nancy Burkart

1987-1988

Beth Maaske

1988-1989

Beth Maaske

1989-1990

Beth Maaske

1990-1991

Stephanie Eckles

1990-1991

Beth Maaske

1991-1992

Denise Reinhardt

1992-1993

Heather Mathews

1993-1994

Julie Tackes

1994-1995

Melissa Lees

1995-1996

Melissa Lees

1996-1997

Lanae Kozi

1997-1998

Lanae Kozi

1998-1999

Gina Balistrieri

1999-2000

Lanae Kozi

2000-2001

Jennifer Lynn

2001-2002

Amanda Tackes

2002-2003

Erin Salzman

2003-2004

Lyndsay Chapman

2004-2005

Sara Olson

2005-2006

Sara Olson

2006-2007

Jenna Hejlik

2007-2008

Sara Olson

2008-2009

Sara Olson

2009-2010

Ashley Hoffmann

2010-2011

Ashley Hoffmann

2011-2012

Ashley Hoffmann

2012-2013

Karri Finco

2013-2014

Karri Finco

2014-2015

Karri Finco

2015-2016

Ashley Cridelich

2016-2017

Ashley Cridelich

2017-2018

Ashley Cridelich

2018-2019

Kristy Held

2019-2020

Mikena Wantz

2020-2021

Rachel Taylor