Slinger Super Speedway Divisions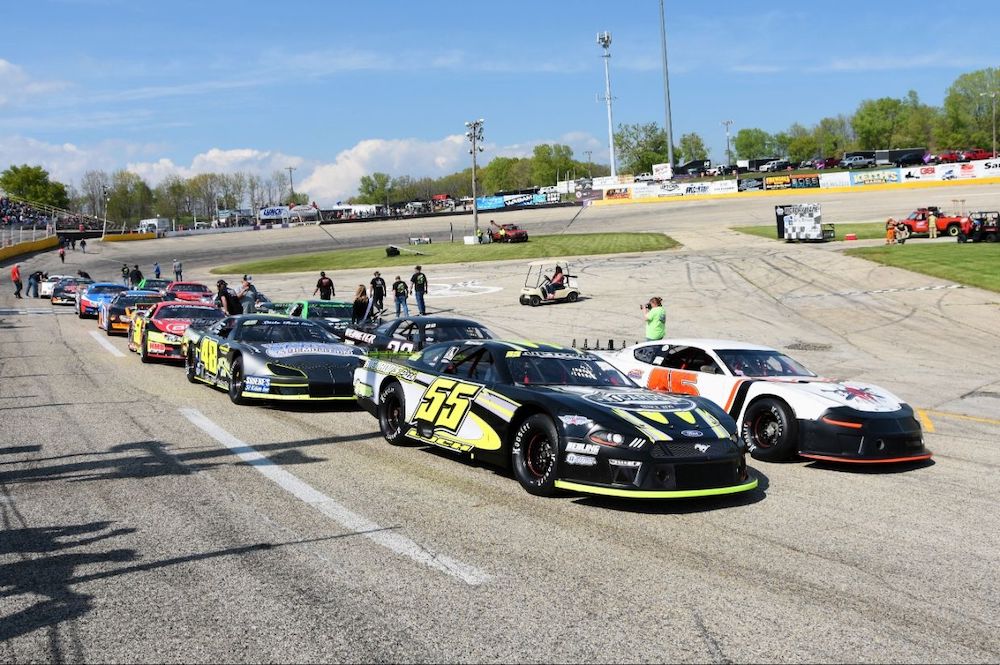 Elite 8 Super Late Models
These V-8 powered cars are the fastest short track cars in the world. The aluminum- and fiberglass-bodied cars have high-powered racing engines. These cars are built from the ground up as racing machines. Super Late Models turn laps at Slinger Super Speedway in just over 11 seconds. It is these cars which have established the world record lap speeds on a quarter-mile high-banked paved oval. You know that you will see some of the fastest racing action in the country when these cars hit the track at Slinger! (photo credit: Kim Kemperman)
2022 Race Dates:
April 24
May 29
June 12, 19
July 3, 12
August 7, 28
September 4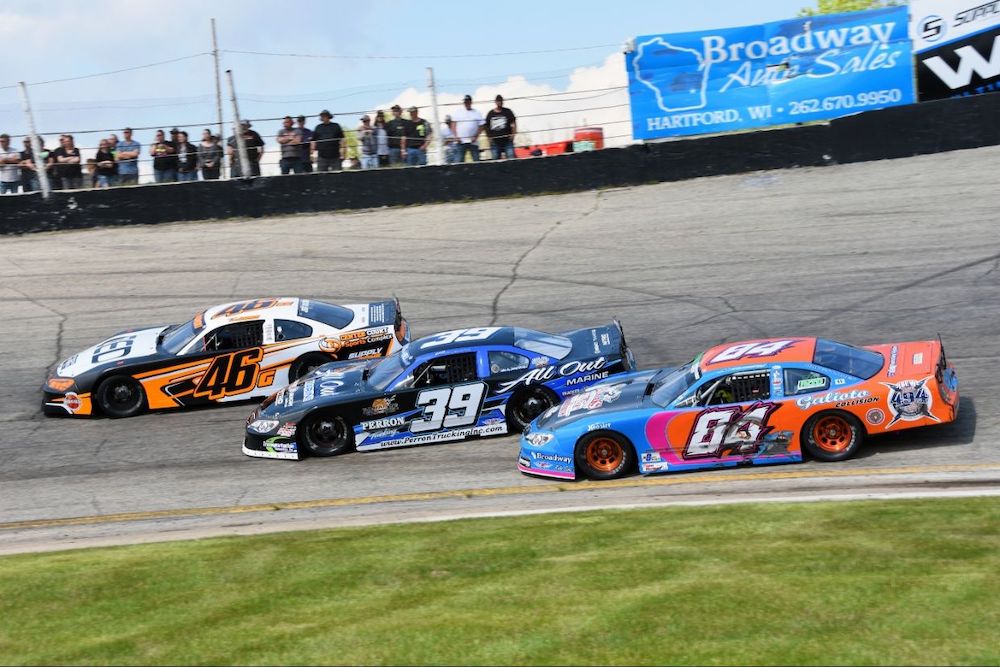 Uptown Motorcars Pro Late Models
The Pro Late Models offer exciting racing every time they hit the track! They have aluminum and fiberglass racing bodies, 8" racing tires, and are built from the chassis up for high performance. Pro Lates turn laps just over 12 seconds. (photo credit: Kim Kemperman) 2022
Race Dates:
April 24
May 15, 22, 29
June 5, 12
July 3, 10, 24, 31
August 14, 28
September 4, 11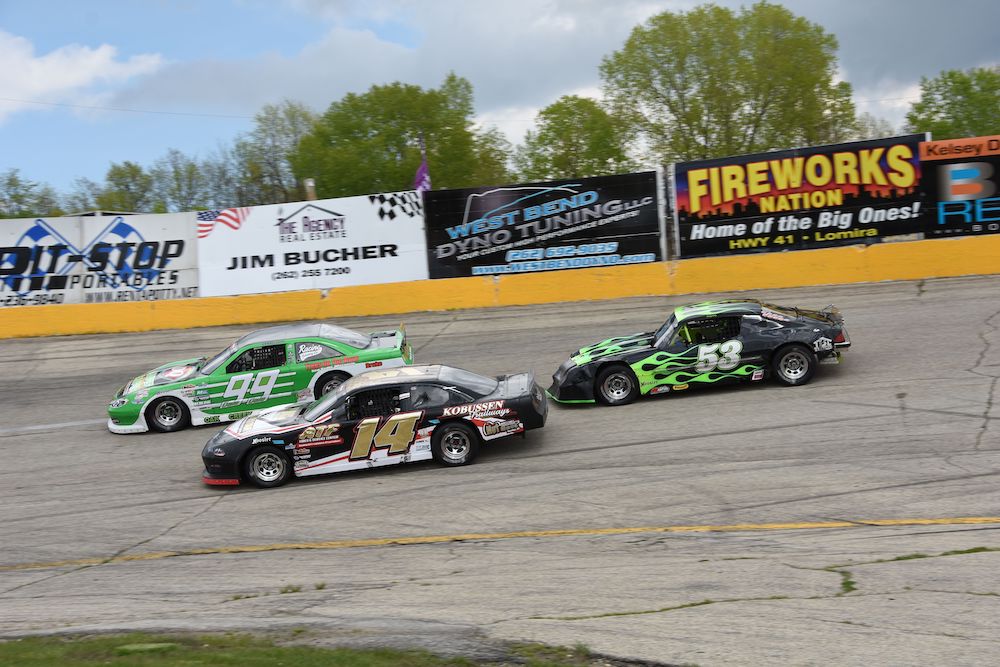 Sportsman
The Sportsman division sets up the driver for learning the basic rules and techniques of car set-up while offering a fun way to race on a working man's budget. Exciting action is what this division provides! These cars are capable of upper 12-second lap times.
2022 Race Dates:
April 24
May 15, 29
June 12, 19
July 3, 19
August 14
September 11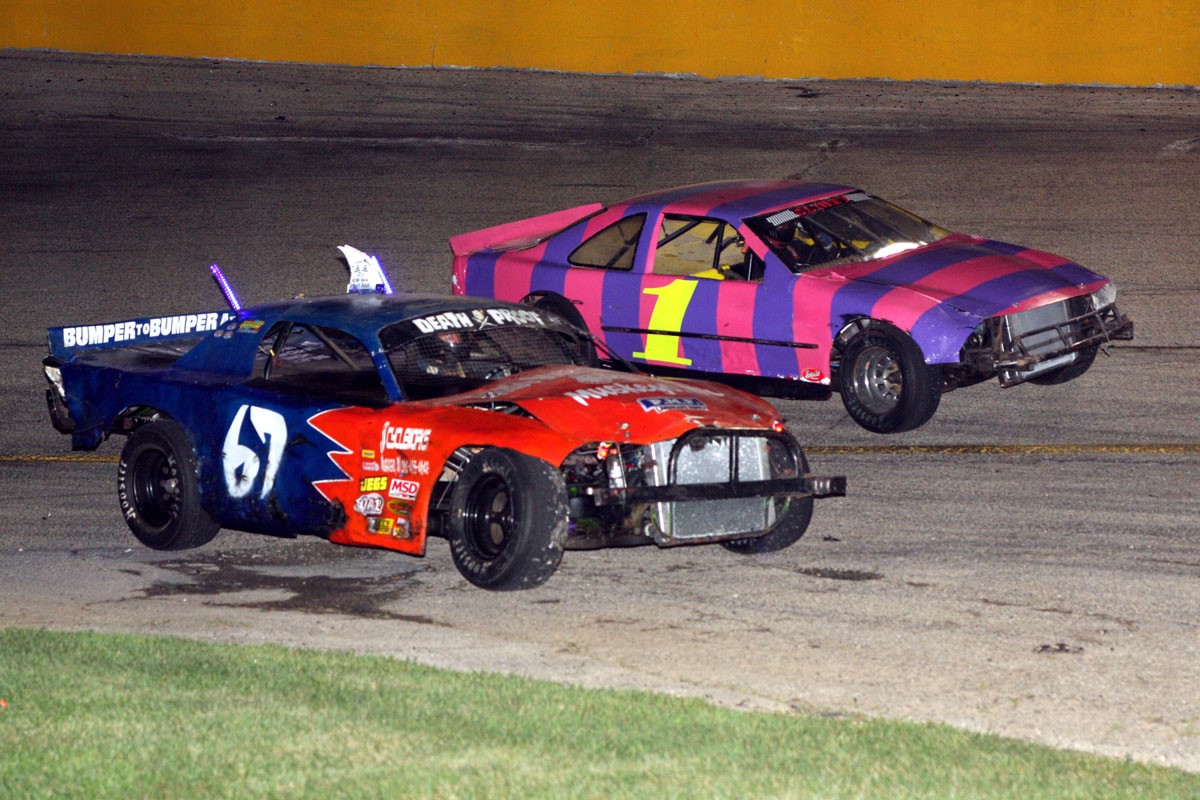 Figure 8s
The Figure 8 division is a one race per night class that follows a figure eight pattern. When the field starts to get strung out, the leader begins to encounter the other cars at the intersection. That's when you hold your breath and see who will make it through "X"! The cars vary from older racecars to any type of American car and often show the driver's personality!
2022 Race Dates
May 15, 29
June 12, 19, 26
July 3, 10, 24, 31
August 14, 28
September 11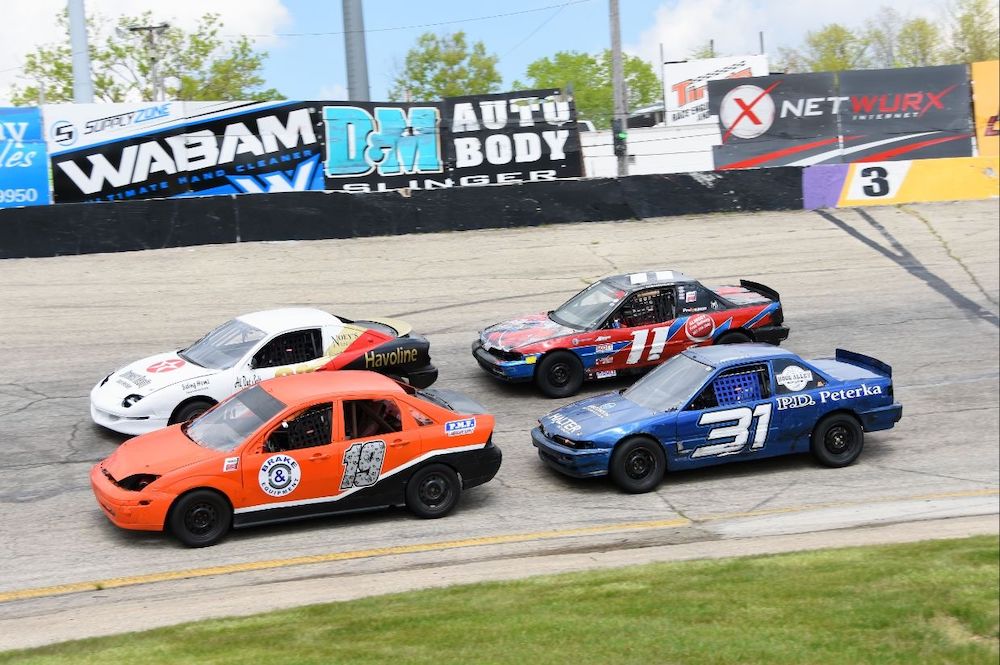 Slinger Bees
Possibly the most affordable way to test the high banks of Slinger Super Speedway is in the Slinger Bees division. These basic four-cylinder, front-wheel drive cars are inexpensive to prepare and race. These cars are almost stock from the factory, with minor chassis and safety modifications. If you want to go racing at Slinger, the Slinger Bees are the perfect place to start. In order to control costs in this division, Slinger Bees run a 'breakout rule'. Running a lap faster than 15.2 seconds results in penalties. (photo credit: Kim Kemperman)
2022 Race Dates
April 24
May 15, 22, 29
June 12, 26
July 3, 10, 17, 24, 31
August 7, 14, 28
September 11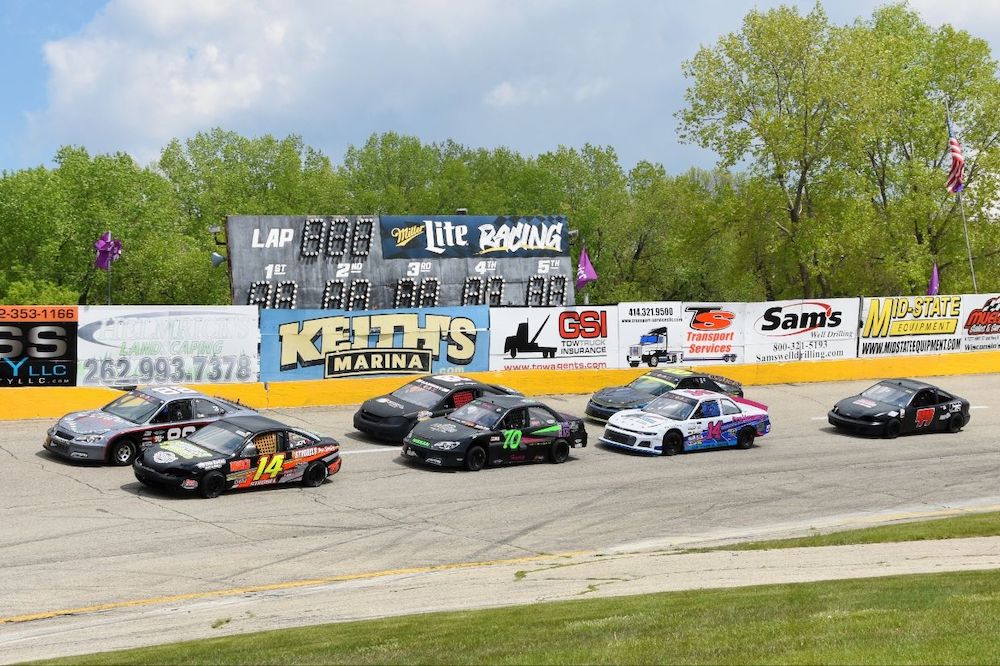 Finish Line Sales & Service-Hartford Super Beez
Super Beez are modified Slinger Bees. This division has a race tire that all racers must use. Engine and chassis modifications are much more liberal than the Slinger Bee division allowing the racers to go over one second faster per lap. Front and rear wheel drive four cylinder cars are allowed. (photo credit: Kim Kemperman)
2022 Race Dates
May 15
June 5, 19
July 17, 24
August 7
September 4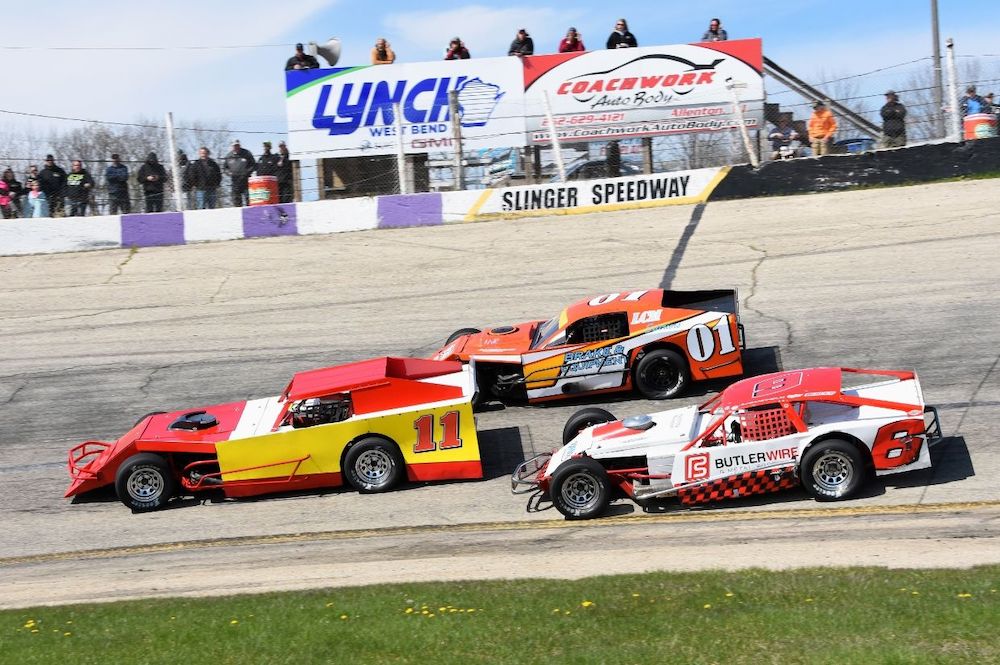 The Finish Line Bar & Grill Modifieds
The Mods add a unique look to the on-track action at Slinger! Rules that control the costs make the division more affordable for the drivers. Running lap times similar to Pro Late Models, the Mods are fun to watch! (photo credit: Kim Kemperman)
2022 Race Dates
April 24
May 22
June 26
July 31
August 14
September 4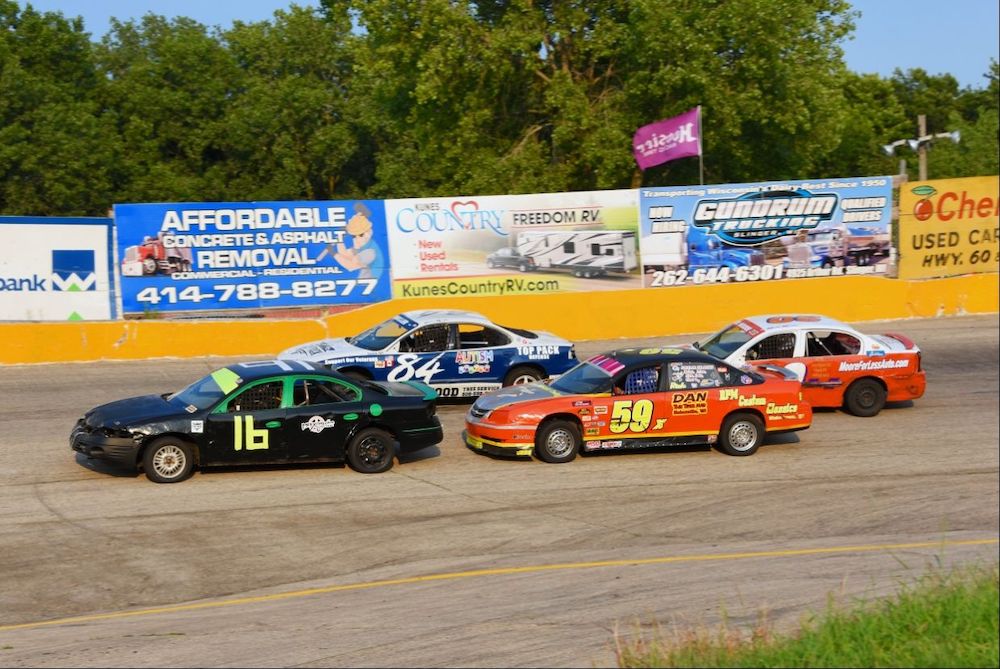 Slinger Sixers
The Slinger Sixers were created to offer another affordable, entry-level division. Any 6 cylinder front wheel drive ,domestic (GM/Ford/Dodge), non-turbo, non-super-charged and non-special edition (ex: GTP, SHO models) is eligible to compete.
2022 Race Dates
May 22, 29
July 3, 10, 24, 31
August 28
September 11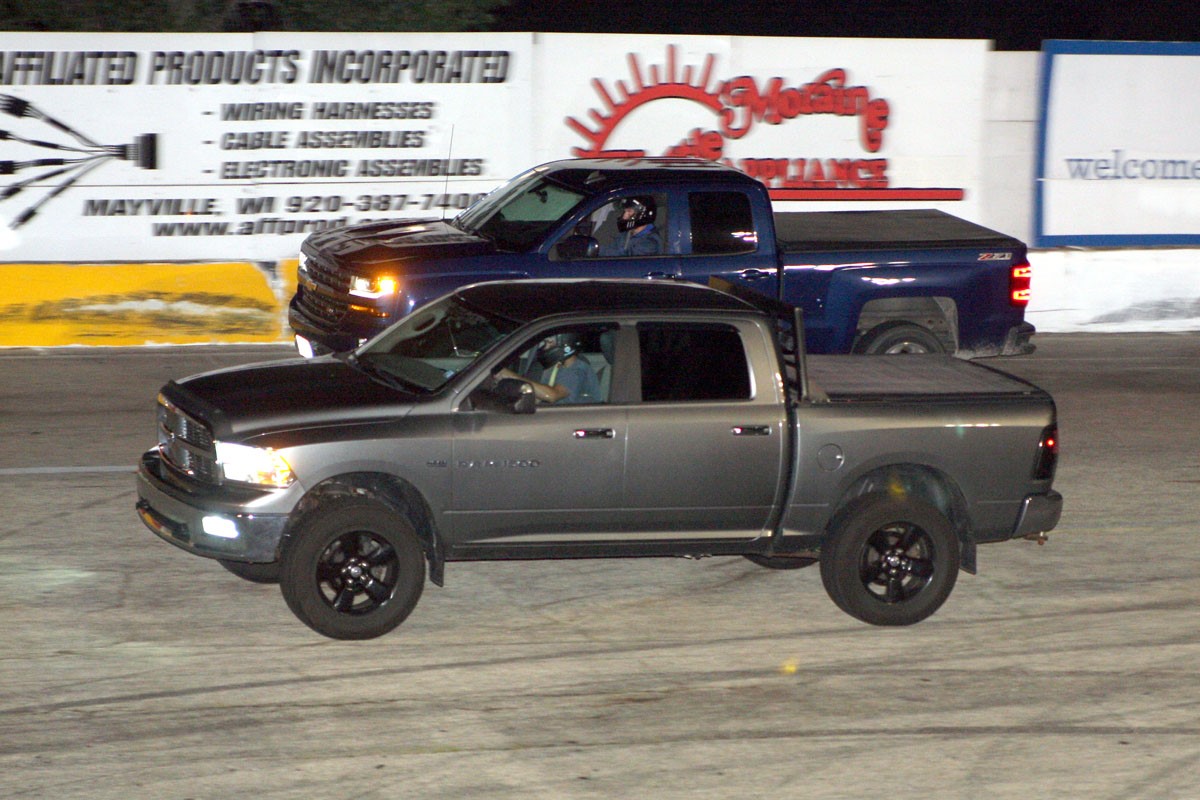 Spectator One-On-Ones
Take your personal vehicle on the track for one-on-one drag races! Competitors compete for bragging rights in 2-lap races until the final 3-lap shootout! To enter, sign up at the Pit Shack on race day!
2022 Race Dates
May 22
July 24
August 28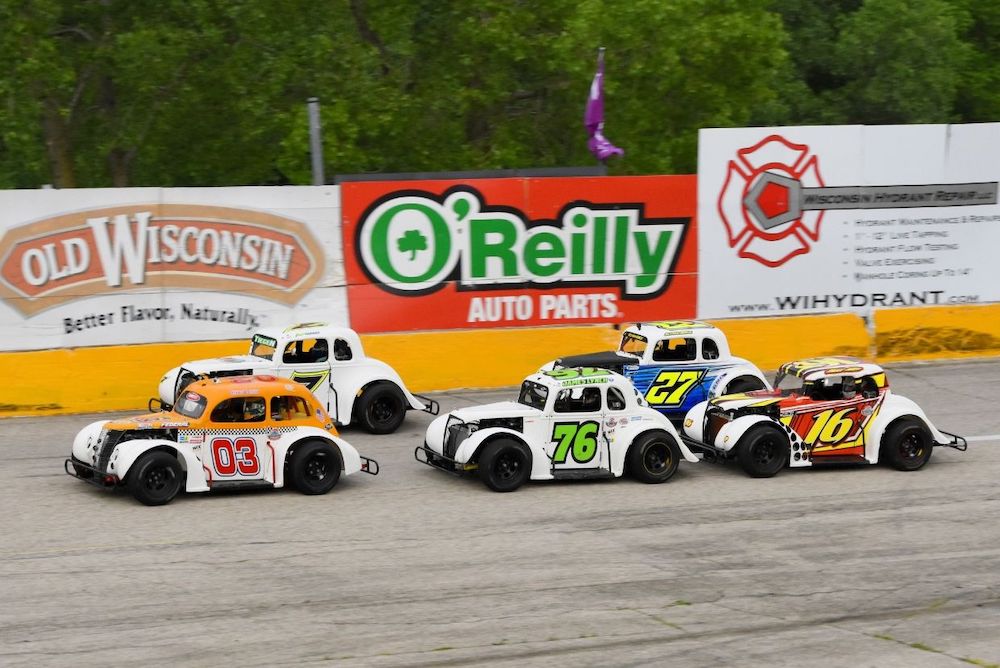 Great North Legends
Legend Cars are 5/8-scale fiberglass full-fendered versions of historic NASCAR modifieds. They run a Yamaha FX09 sealed engine and Hoosier Racing Tires. Legends are the rare racecars in which the doors actually open!
2022 Race Dates
May 15
June 5, 19, 26
July 17
August 7
September 4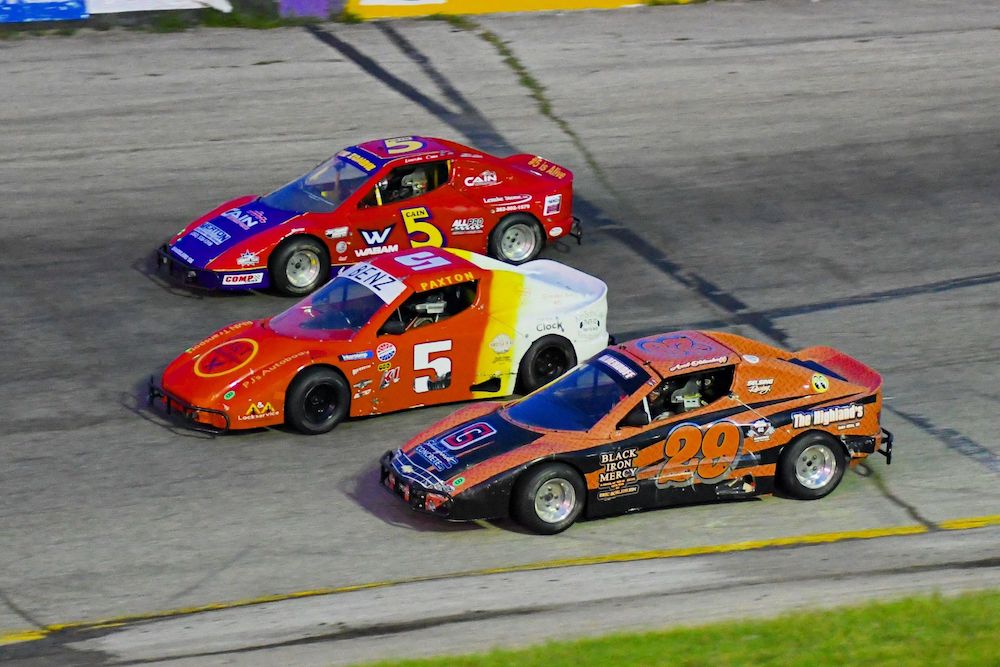 Johnson & Sons Paving Bandoleros
The Bandolero Car is a turnkey, spec-series racer designed for drivers as young as eight years old. The driver brakes with their left foot, and the car contains a centrifugal clutch that does not require any shifting. Bandos are powered by Briggs & Stratton 570cc engines, which are mounted behind the driver. Drivers enter and exit the car via the roof.
2022 Race Dates:
May 15
June 5, 19, 26
July 17
August 7
September 4