---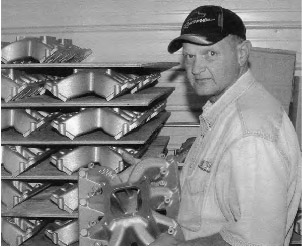 (Tribute written by Scott Nottestad; photo credit to Ron Erstad, Fay Hendricks, and Wegner Automotive)
I first met Carl Wegner in person, I believe it was 1991, at MIS when I was in the pits helping my friend Matt Kenseth as he was starting out in his Super Late Model career. The Wegner name was already well-known at that time and to meet him personally was a bit intimidating as I have come to know that was his nature and demeanor. The years went by and I always stayed involved in racing and saw Carl give Matt a great opportunity to run his first ever Busch Series race in Charlotte in 1996. Carl had an eye for hard work and talent and was always willing to help out the racers that he knew earned it.
Fast forward to 2018, my son Jacob had started running a Limited Late Model in 2017 full time at Jefferson Speedway. We wanted to embark on the Big 8 Late Model Series in 2018 and I knew we would need an engine that could be strong at a variety of speedways. I spent a lot of time researching and talking with my friend Tommy Pecaro, who at the time worked at Wegner Automotive. The LS engine was a very attractive option and versatile to potentially run as a Super Late Model at some point down the road if we ever thought about trying it. The engine cost us $10.5K which was very attractive even though still high for our budget but seemed like a wise choice. Needless to say this has been by far the best investment in my racing career. We are still running this same affordable engine to this day. We have captured multiple championships, feature wins, and now have been able to win a Midwest Tour Feature and Tundra Series Feature with it as well. This engine design by Carl has forged his legacy for many years to come.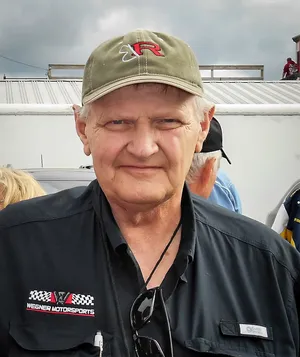 This story is supposed to be about Carl, so back to 2018. When I met Carl to make the engine purchase, he was rough around the edges as usual. He asked me a bunch of questions about my family, Jacob, etc. He was quick to point out that Casey Johnson was the next up-and-comer and I explained to him our friendship, etc. When I left, I felt that he was going to be keeping an eye on our progress. We started the season doing well and I had called him every now and again with questions and advice. A couple of quick stories: We had a bad miss at MIS and could not figure it out. He asked if the battery was new, if we had our engine grounded properly, etc. I am like yes. He says, "Let me guess, you're running one of them Optima Batteries?" I am like yes how did you know? "I bet you're just like any other racer and didn't read the charging instructions." I charged it like normal. He goes on to tell me I need a fancy cycle charger specific for optima batteries. He says, "Go to Farm and Fleet, buy yourself a lead acid battery for 50 bucks and run it. At mid-season do the same; I mean you spend over $100 a tire, get a proven battery that works… end of story". The next week I called him and asked about changing jets. He says, "Scott, don't touch the damn carburetor unless it's one of two situations: If it's so hot out you need to take your shirt off, jet it down two sizes. If it's so cold you need a sweatshirt, jet it up two sizes. Otherwise, don't touch the damn carburetor, it is good!" Always straight to the point which is one of the many reasons I respected him.
The years went on and he was gaining a ton of respect for Jake and our race team. He was super excited about us going to try the 5.3LS as a Super Late Model said we should do really well. Another thing was very obvious, he very much disliked social media especially Facebook and explained how the keyboard warriors were killing the sport. They were consumed with typing instead of working in the shop on their stuff, instead more interested in bashing other tracks, drivers, etc. We lost him too soon. I would love to share the stories of our accomplishments in the Super Late Model already. I have so many more questions and I have heard so many more stories since he has been gone. He has a great legacy in Casey, Dennis, and the rest of the gang at Wegner. We will continue to support him proudly and would love to win the Carl Wegner Memorial race for him!
~Scott Nottestad
Carl Wegner Memorial Race Winners:
2019:  Super Late Model - Alex Prunty; Pro Late Model - Jack Stern
2020:  Super Late Model - Luke Fenhaus
2021: Super Late Model - Luke Fenhaus; Pro Late Model - Jeff Holtz
2022: Super Late Model - Alex Prunty; Pro Late Model - Brad Hetzel
2023: Super Late Model - Alex Prunty