Slinger Super Speedway Marketing Information
Reach New Customers with Unique Motorsports Marketing Programs at Slinger Super Speedway!
Sponsor Advertising Information: Expose your business to over 125,000 fans this season!
Sponsorship at Slinger Super Speedway offers the opportunity for your organization to gain additional exposure throughout the Midwest. Auto racing is a popular spectator sport and with that comes additional marketing opportunities for your company. Your involvement as a promotional partner of this legendary facility is a great way to continually build a notable presence in the state of Wisconsin and beyond.
Whether you are planning a corporate event or are simply interested in gathering a group of loyal customers, Slinger Super Speedway offers you a variety of entertainment options. Sponsorship opportunities are available, contact Todd Thelen at 262-370-0440 or Lynn Wagner at 262-297-2882.
Event Overview
As the sponsor of an event, the night will be titled to reflect your involvement accordingly (duration of events TBD) and will include an extensive advertising campaign leading up to a full night of action in all racing divisions. Just a reminder that you will have the opportunity to entertain up to 400 guests in the Lynch hospitality pavilion. Key representatives of your group will have the added excitement of participation in at track activities, such as:
The calling of the "Gentleman, Start Your Engines!" command
The waving of the green flag
A ride in the Pace Car during a race!
Speedway driving opportunities in a guest car
The involvement in the post-race victory circle activities
These promotional elements would be a great incentive for employees and guests during the evening's festivities.
Program Advertising Elements Options
Posters and Flyers – The track will produce and distribute 11″ x 17″ promotional posters and 8 ½" x 11″ flyers highlighting your sponsorship of the event and any retail driven promotions surrounding the event.
Schedule Inclusion – The track will include your company's logo and event information on the pocket schedule. The speedway will produce and distribute a minimum of 10,000 schedules, but has printed up to 20,000 schedules to meet demand in the past.
Permanent Billboard –With your direction, the track will produce a billboard to highlight your involvement at the speedway. As a billboard advertiser, you will gain yearlong exposure as over 125,000 guests visit Slinger Super Speedway. The cost of the billboard covers up to $200.00 in artwork and production cost. As a billboard advertiser your company will also receive a weekly 30-40 word announcement played over the Speedway's public address system.
Temporary Track Signage – As a respected sponsor, you will have exclusive rights for temporary signage on the night of the event, including company branded banners, pennants, posters, etc. You are also encouraged to provide hats, t-shirts and/or a banner for additional promotional opportunities that exist on the Victory Deck during post-race activities with the winning driver.
Shirts/Promotional Merchandise – As an event sponsor, you may enlist Slinger Super Speedway to produce branded racing apparel that you may issue to your guests to ensure their easy identification and additional promotional exposure on the day of the event. The cost to produce shirts for guests is approximately $5.00 each, although hats and other items are also available.
Radio/TV/Newspaper: In the week leading up to your race, the track will include your name in all radio, cable TV, and newspaper advertising as well as on our social media sites:  Facebook, Twitter, and Instagram.
Internet Inclusion: The track will include all information surrounding your company's sponsorship of the event on our website, slingersuperspeedway.com. You may also choose to have a link to your home page added to our site for even greater exposure.
Event Hospitality Options
Slinger Speedway offers three hospitality areas for your private anniversary/birthday/retirement/etc party, class reunion, shower, wedding, corporate outing, club outing, and/or just a gathering of friends.  All areas offer the following for each of your guests:  admission to the event, hostess service, brats/burgers, hors d'oeuvres, beer, soda, water.  Additionally, a pit tour will be offered after qualifying, and three guests will have the opportunity to ride in the Pace Car during a race!  Suites 1 and 2 also offer a climate-controlled environment and mixed drinks.
Lynch Pavilion
The Hospitality Pavilion is located between Turns 1 & 2 of Slinger Super Speedway, uniquely set away from the main grandstand area to offer your group a special opportunity to mingle amongst themselves while enjoying the evening's on-track activities. There is a minimum of 50 and a maximum capacity of 400 guests in the Hospitality Pavilion, which offers both indoor and outdoor seating.
Badger Contracting VIP Suite 1
The Badger Contracting VIP Suite 1 is located above the upper concession stand, directly up the hill from the start-finish line. Suite 1 has a minimum rental of 15 people, with a recommended maximum of 30.  One unique feature of this suite is the nostalgic wall of past Slinger Speedway yearbook covers!
Netwurx Internet VIP Suite 2
The Netwurx Internet VIP Suite 2 is located above the upper beer stand, just south of the concession stand.  This spacious suite has a minimal rental of 20 people, with a recommended maximum of 45.  It also has an elevator for the convenience of our guests.
Contact slingerspeedwaymarketing@gmail.com or call Lynn Wagner, PR/Marketing Coordinator, at 262-297-2882 for more information or to rent a hospitality area.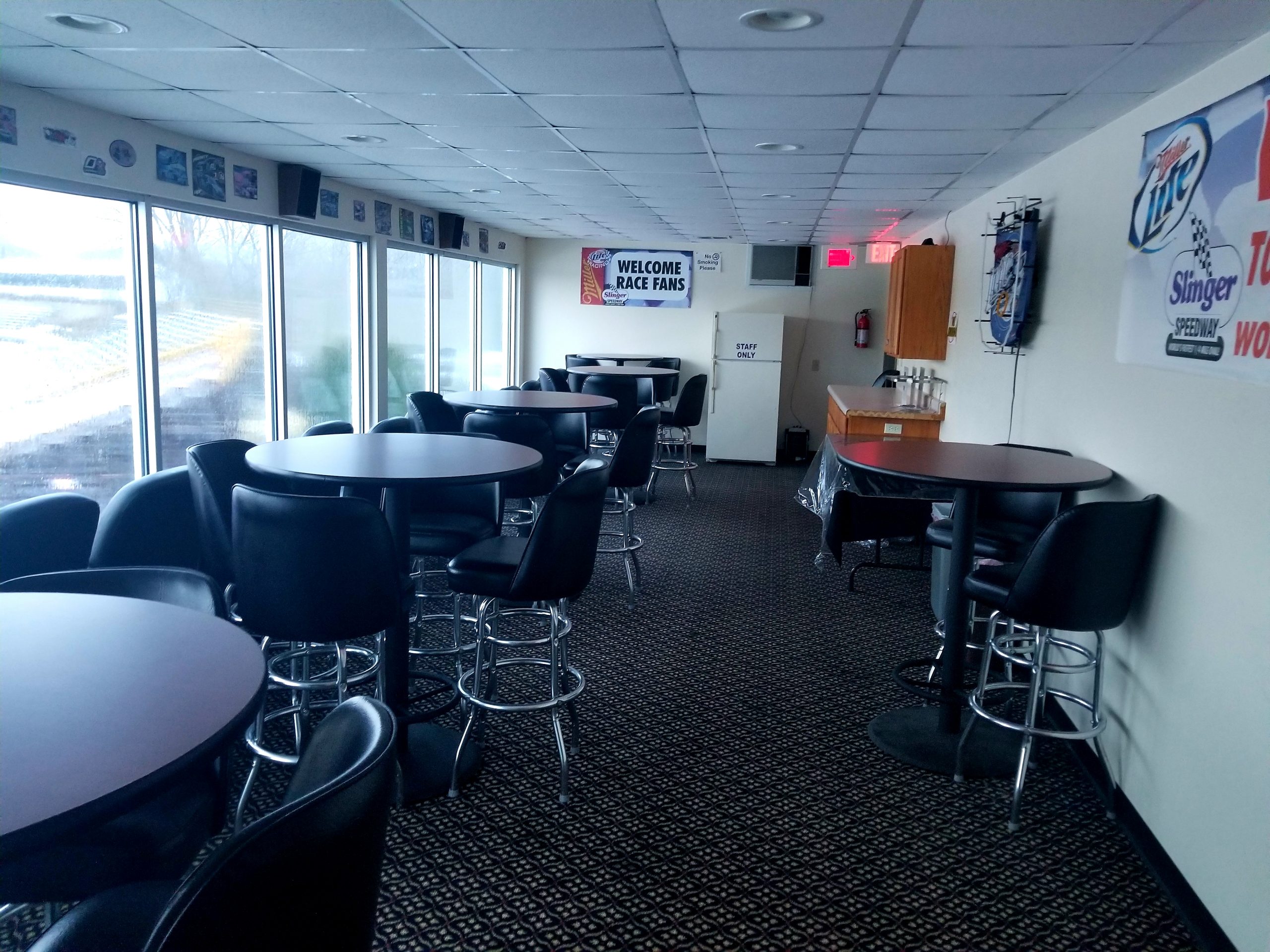 Netwurx Internet VIP Suite 2
---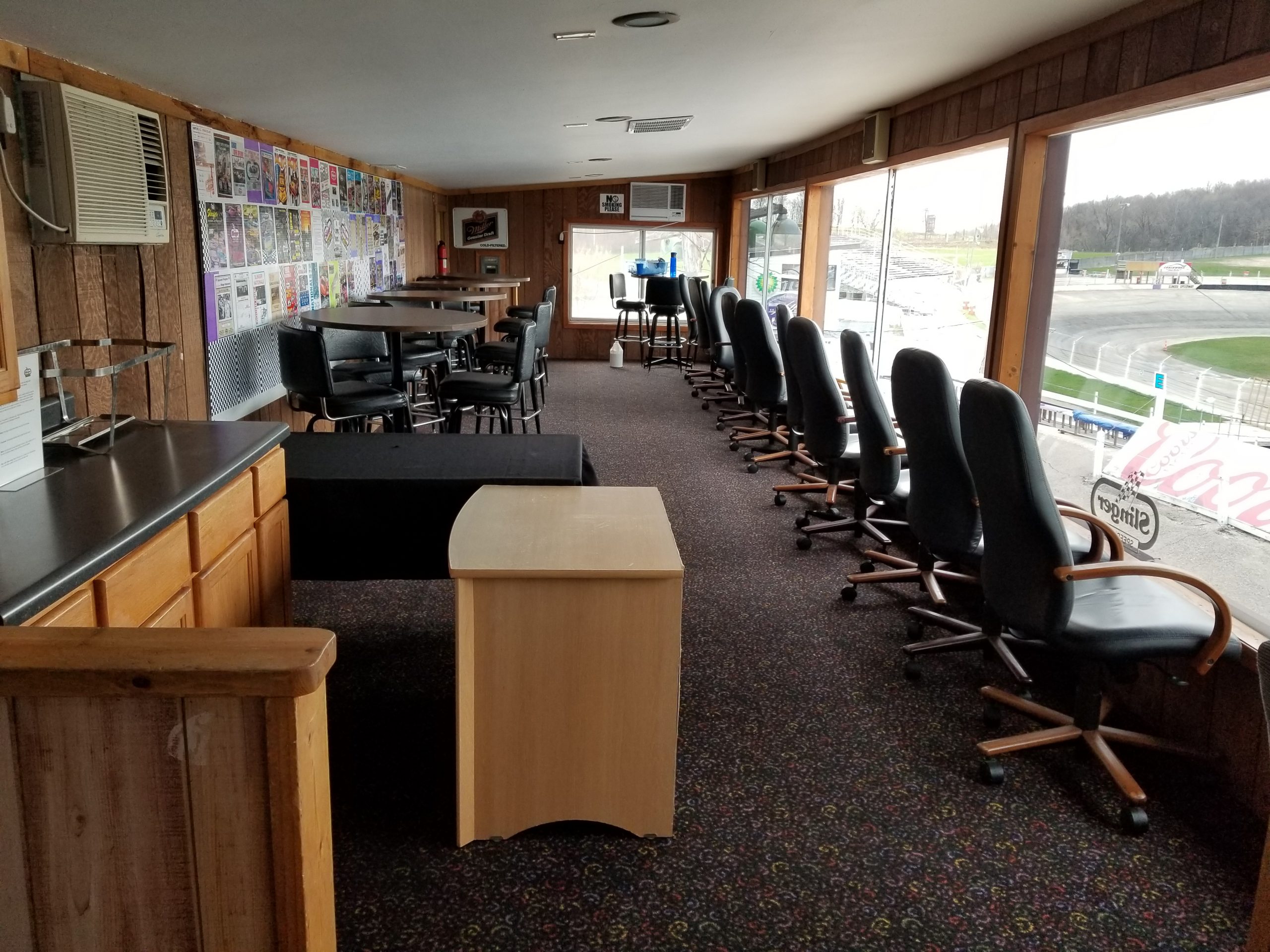 Badger Contracting VIP Suite 1
---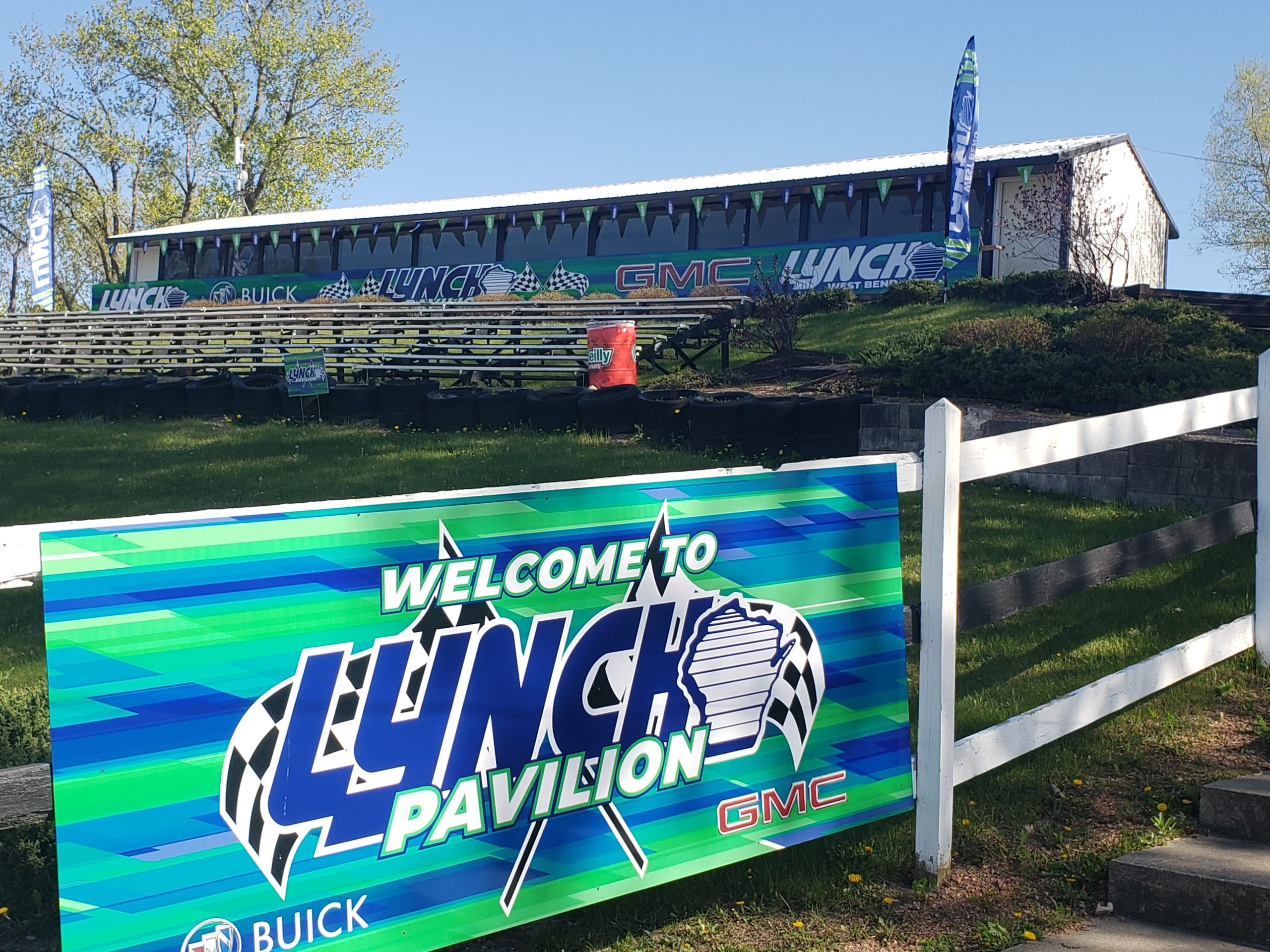 Lynch Pavilion