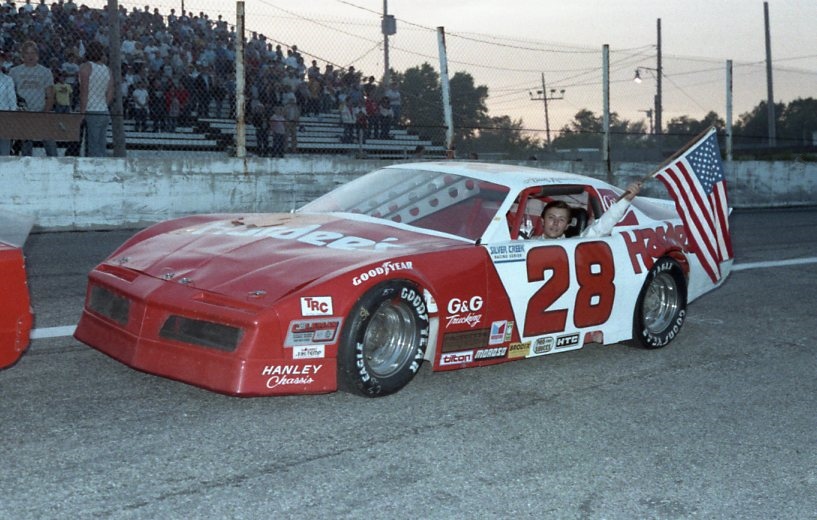 ---
(Story credit: Fay Hendricks ~ Photo credit: Patrick Heaney)
Alan Kulwicki was Wisconsin's first NASCAR Cup champion and probably the last independent owner/driver to ever do so. He did not have an easy journey in life, but his focus never wavered.
Alan lost his mother, brother and grandmother early in life and focused on racing go-karts while his father built engines for famous racers. Jerry Kulwicki discouraged his son from making a career of racing, knowing how difficult it is to be successful, so Alan scraped together what he could to race stock cars. He began in a dirt late model while attending college, then switched to asphalt racing in order to move up to major racing. He found success in racing while earning his engineering degree and even made the dean's list while doing so.
Alan's years at Slinger Speedway were successful, earning the super late model championship in 1977 and 1978, then winning the second annual Slinger Nationals in 1981 over a very tough field of racers. After finding much success on the short tracks, Alan left for North Carolina with no place to stay or sponsor to fund him. He built his own NASCAR team out of necessity, putting in countless hours of work while getting a crew to help him. With one car and two engines, he made a name for himself early on, and earned Rookie of the Year honors. After years of not getting picked up by a team, Alan was offered a ride by the legendary Junior Johnson, but Alan declined because he knew he could do it himself.  
Alan's focus never wavered, with years of hard work finally paying off with the 1992 NASCAR Cup championship accompanied by the song, "I Did It My Way." Alan didn't have long to enjoy his accomplishment, perishing in a plane crash on April 1, 1993. Those of us who knew him will never forget his journey, his dedication and his sacrifices to achieve his goals. He was, and still is, an inspiration to anyone who want to be successful. 
In 1993 Slinger hosted the first Alan Kulwicki Memorial race, which is still on the annual schedule to this day. Fellow racers vie to win this event honoring their comrade, for it means a lot to those who ran alongside Kulwicki.  Alan Kulwicki was inducted into the Southeastern Wisconsin Short Track Hall of Fame in 2012 and Slinger's Wall of Fame in 2014. We were blessed to have known him.   
Alan Kulwicki Memorial Race Winners:
1993 - Matt Kenseth
1994 - Tony Strupp
1995 - Al Schill, Jr
1996 - Conrad Morgan
1997 - Jimmy Watson
1998 - Jamie Wallace
1999 - Cindy Peterson
2000 - Eric Fransen
2001 - Charlie Thon, Jr
2002 - Eric Fransen
2003 - Brad Mueller
2004 - Andrew Morrissey
2005 - Nick Schumacher
2006 - Al Schill, Sr
2007 - Rainout
2008 - Jeremy Lepak
2009 - Jamie Wallace
2010 - Dennis Prunty
2011 - Rainout
2012 - Rainout
2013 - James Swan
2014 - Lowell Bennett
2015 - John DeAngelis, Jr
2016 - Dennis Prunty
2017 - Conrad Morgan
2018 - Alex Prunty
2019 - Brad Mueller
2020 - Steve Apel
2021 - Alex Prunty
2022 - Rainout
2023 - Steve Apel