By Dan Margetta
Slinger, Wis., June 3— Alex Prunty survived a clean hard fought battle with Steve Apel and then turned back a hard charging Brad Mueller to win the 60-lap First Round of the Triple Challenge super late model feature in a photo finish Sunday night at the Slinger Super Speedway.
"I have a lot of respect for Steve (Apel) as it was a lot of fun racing side by side like that for forty plus laps," Prunty told the crowd from victory lane, "We tried something new and worked hard as we were here all day Friday testing and I've finally got something that I really like again."
"I'll you what…Steve (Apel) and Alex (Prunty)…those two ran a great race running side by side for so many laps." Brad Mueller said after first moving into second place when Apel experienced mechanical problems with five laps to go and then coming up just inches short at the finish, "My hat's off to them."
"The car was great tonight and we've been doing little tweaks on it, " Mueller continued," I just wish Alex would've cleared him about five laps earlier because the car was really, really good."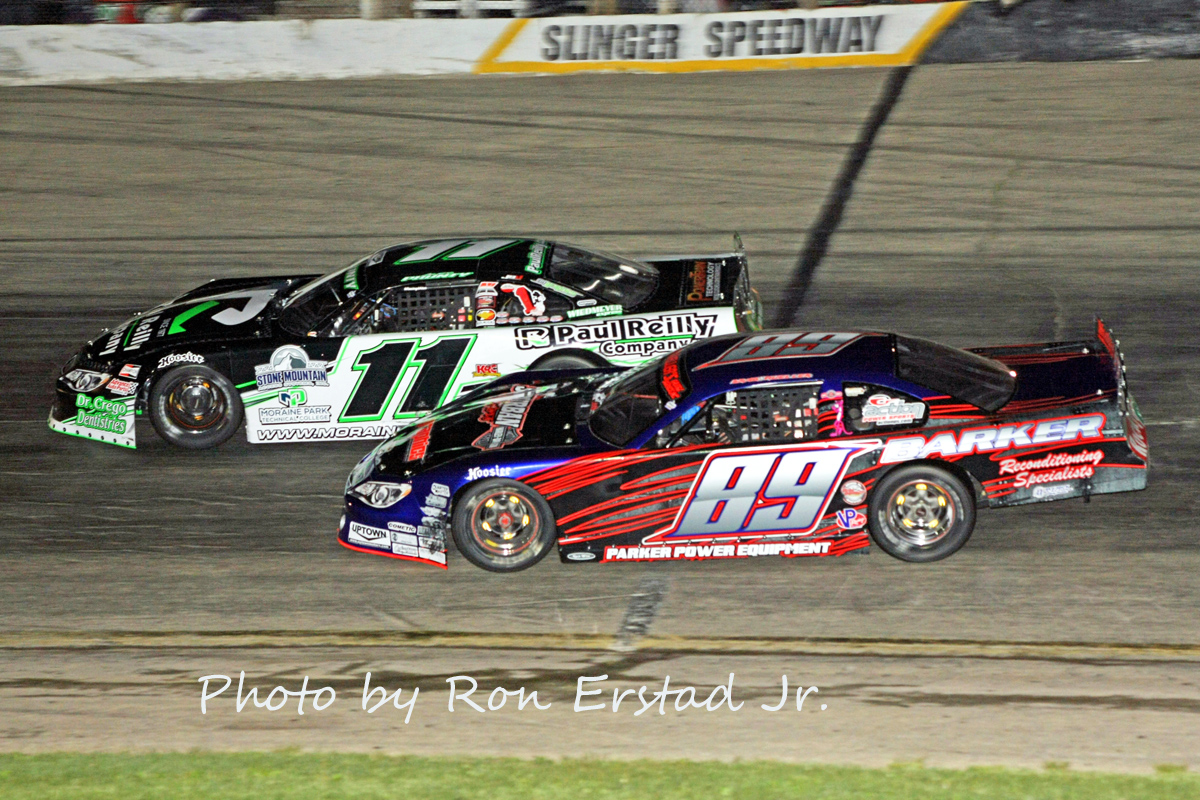 Alex Prunty and Rob Braun led the field to the green flag and Prunty drove to the early lead as Steve Apel tucked into second place while Braun battled with Gary LaMonte and Chris Blawat behind the top two. LaMonte and Blawat moved into third and fourth respectively just before the first caution flag waved on lap ten when Brad Keith's car began leaking fluid on the track. Alex Prunty and Steve Apel continued their battle for the top spot as racing resumed with Apel making numerous attempts to pass on the inside while right behind them LaMonte and Blawat had their own side by side battle for third. Brad Mueller, Ryan DeStefano, Nick Wagner, and Dennis Prunty all raced in tight formation behind the top four. As the race approached halfway, Dennis Prunty and Mueller broke free from their pack and caught the top four while Apel continued to make several attempts to take the lead from Prunty. With Alex Prunty and Apel staging their battle for the top spot, the battle over fourth became heated on lap 28 when Blawat and Dennis Prunty made contact off turn two with Prunty's car momentarily launching on top of Blawat's machine to draw the caution flag. Both cars left the track for repairs but were able to continue in the race as Alex Prunty and Apel lined up for the restart. As racing resumed, Alex Prunty and Apel once again went door to door for the lead as LaMonte looked on from third while Brad Mueller had the outside working and he quickly the joined the top three. Mueller was able to use the outer groove to take over third from LaMonte and began to track down the top two who continued to race side by side. Apel held the low groove and was able to inch ahead slightly but Prunty powered off the turns on the high side and was able to maintain the lead all while Mueller sat directly on Prunty's bumper in third place. With five laps to go, Apel's car began to show signs of smoke and he dropped to the inside leaving Mueller to step up and battle Prunty for the lead. Mueller pulled alongside Prunty as the two raced to the white flag and they continued in that formation on the final lap with Mueller holding the inside and Prunty working the high groove. Mueller edged ahead slightly off turn four but Prunty powered off the final turn on the high side and won the drag race to the checkered flag by just .025 seconds. Ryan DeStefano capped off a very strong run with a third place finish while Gary LaMonte and Nick Wagner rounded out the top five. Jon DeAngelis finished sixth while Grant Griesbach was seventh. Dennis Prunty rebounded from his earlier incident to finish eighth while Tim Lampman and Rob Braun rounded out the top ten finishers.
Mike Egan won the 20-lap super late model semi-feature over Mike Held and Jordan DeVoy.. Jake Vanoskey finished fourth and Jerry Eckhardt was fifth. Super late model heat races were won by Jake Vanoskey, Alex Prunty, and Ryan DeStefano while Brad Mueller was the fastest qualifier after circling the speedway in 11.241 seconds.
Brian Holtz won the 40-lap late model feature for his first trip to victory lane in a main event this season.
E.J. Waldron paced the early laps as Ryan Gutknecht, R.J. Braun, and Holtz battled for position behind him with Jakob Hassler and Nick Roehl also in the mix. Hassler was able to root his way around Roehl on lap five and one lap later, the two tangled off turn two to draw the first caution flag. Holtz was ready on the restart and he was able to charge by Waldron for the lead as racing resumed. Braun also advanced forward into third while Shaun Scheel, Jack Stern, and Gutknecht followed close behind. A late caution flag on lap 33 bunched the field as the cars of Jared Deming and Nick Roehl came together off turn two. Holtz was ready for the restart and he maintained the lead as the green flag waved for the final seven laps. Holtz could not be caught over the closing laps and he drove to the victory over Braun who edged Waldron for second. Jack Stern and Shaun Scheel rounded out the top five.
Late model heat races were won by Jared Deming and Jakob Hassler while Jack Stern was the fastest qualifier with a lap of 12.116 seconds.
Steve Zoromski won the 25-lap Super Beez feature over Brandon Tackes while Jayden Buckley finished third. Mark English and Dakota Smith made their first Slinger appearances of the season and finished fourth and fifth respectively. Steve Zoromski and Nick Schmidt each won Super Beez heat races while Tom Berens was the fastest qualifier with a lap at 13.764 seconds.
Dale Kiley-Schaefer won the Slinger Bees 25-lap feature by holding off a closing Brandon Berens for the victory. Garrett Konrath finished third while Ricky Gebhard and Brady Held finished fourth and fifth respectively. Brandon Mennicke won the Slinger Bee semi-feature over Kevin Lentz and Tom Elsinger Jr. Adam Eckelberg and Scott Schmies rounded out the top five. Singer Bees heat races were won by Kevin Lentz, Garret Konrath, and Zach Greer while Ricky Gebhard was the fastest qualifier at 15.224 seconds.
Joel Schulz won the 20-lap American Super Cup feature over Amanda Bohn and Payton Glodowski. Jessica Talley was fourth and Mick Ellis finished fifth. Amanda Bohn and Payton Glodowski each won an American Super Cup heat race and Payton Glodowski was the fastest qualifier with a lap at 14.983 seconds.
Willy Van Camp closed out the evening with a victory in the Figure 8 race.