Driver of the #2 Super Late Model
Super Late Model Champion – 1996, 2000, 2001, 2002, 2008, 2009, 2010
Slinger Nationals Winner – 1997, 2000, 2004, 2007, 2010
Slinger Speedway Wall of Fame – Class of 2017
SE WI Short Track Hall of Fame – Class of 2015
How did you get into racing?
Well, I was around racing since I was born. My life started off…I was an Army brat. My father was in the Service and my mother went with my father over to Germany, and I was born in Germany. My earliest recollections of racing are of my dad running coupes – that would have been probably 1960 or so. He raced prior to that – he raced like sports car stuff, motorcycles, and that. From what I can remember, my dad ran a little coupe. In 1961 he would have run a '34 Plymouth, and I have pictures of being a little boy, 3-years-old, in front of that car with my mom and my dad with my dad's helmet on. From when I was young forward, my dad raced and I grew up just always knowing I was going to race. It was just a matter of getting to be old enough. I dabbled around with motorcycles and played around like that. When I was 17, I bought my dad's car that he had run, it was prior owned by Lynn Blanchard and Jerry Smith. Jerry Smith won a lot of races with that car, and so did my dad. My first race was the beginning of May, 1976 and it was at Shawano Speedway. I remember it like it was yesterday! I remember the race starting and we went into the first corner and I thought, "Well, didn't the green come out? Why is everyone going so slow?" I went up and passed everyone and won my first race! It grew from that. I ran both the dirt and the blacktop in '77 and '78. In 1981, that was the first year I came to Slinger, and I got hooked on the beautiful high banks of the Slinger Speedway. The second time I came to Slinger, I won the feature. At that time, with the same car, we'd run Saturday night on dirt, move 400 pounds of lead around, take the windows out, put a different spoiler on it and gears and springs and run the same car on Sunday at Slinger. Then again at Kaukauna on Thursday. In those days it was so much simpler, the cars didn't take as much maintenance as they do now. Nowadays you probably put 12-14 man hours into a car to run one race. In 1981, I won the championship at Shawano, I was Rookie-of-the-Year at Slinger, and I think I finished third at Kaukauna – with the same car. I was the last one in the state left running one car on both blacktop and dirt. Al Schill did it for a while, but then he went to two cars. I tried it again in 1982, but they made too many changes on the dirt and I couldn't be competitive on the dirt so I went to blacktop racing.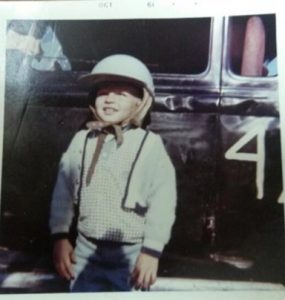 There is a long history of racing in your family. Walk us through it.
My grandfather did a little bit of dabbling in racing – autocross and gymkhana. My dad got into stock car racing – he went to a race right around the time we came back from Germany and he knew a guy who was making money racing. In those days you didn't have anything invested in a car, it was just junkyard parts, and you could make $50-$100 a week racing multiple tracks. Then my uncle Don got into racing, briefly, for probably three years or so. Dad continued on and I worked on his car since I was a kid. In 1964, I remember going to Detroit and picking up a brand new 426 Dodge Hemi engine for dad. He ran USAC and IMCA at that time – from '64-'66. We were at these big races, and these were the races with all the big guys like Don White, Ernie Durr, Parnelli Jones, AJ Foyt – that's the group that Dad raced with. We'd go and Dad wasn't funded well, it was out of his own pocket. We'd sleep in the car in the track parking lot. I remember one of the guys slept in the trunk. It was a colorful era of racing and I was around a lot of well-respected drivers who I respect to this day. Dad was #1 at the time. He liked the number one, so he had selected that. So when I started racing, I took #2. Then my brother Brady started racing and took #3. Then my brother Tim started and took #4, Dave grabbed #5, Aaron, who still races, runs #6, my brother Joel who races at Shawano and with the Dirt Kings is #7. Then my nephew Chase ran go-karts and was # 8, and that brings us up to my son, Braison – he's #9. When Braison was young, we took him to the drag strip and he fell in love with the Junior Dragsters. Season and Jurnee followed him. Season does off-road racing, side-by-side in Crandon. [Is she #10?] No, she's #22 – she took my number and put another two behind it. When Jurnee aged out at 18, she wanted to go and run in a big car so she drag races a full-sized alcohol dragster. She's licensed in NHRA and IHRA. I'm licensed for it too and will jump in periodically and race anything.
At Slinger you've won seven championships, five Nationals, 84 races…is there anything left to accomplish here?
Yea, I wanna win again! And I want another Nationals or two! I'm hoping to get back and run the Nationals this year. Frogy from PMF has been fantastic to us down at Slinger; we really appreciate his help. I'm 62 years old and I feel like I'm 30. I can still run and jump and race – my reactions are still fantastic. When I'm in a racecar, I don't know that I'm not 30 years old. I don't get beat up; God's blessed me with very good health. Being able to race with my son like this has been an awesome and fun experience for me. I've won 27 major championships, the Slinger Nationals five times, and over 200 features (including dirt) so I don't really know if I have anything to prove, but I still feel like I have some races to win. Rich Bickle and I are in the same boat – we are in good enough health and we are still good enough at racing that we can be competitive.
And there's as good of competition there today as there was in the days years ago.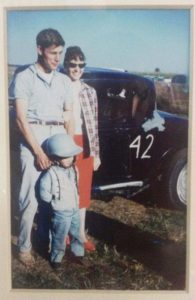 You are second to Al Schill in the overall Super Late Model win totals at Slinger, with him earning 93 and you earning 84. How do you feel about that?
What I feel about that is it's a pretty cool thing! I have to say that Al really deserved that and out of all the races that I have ever run and racecar people I have raced, Al Schill would probably be my favorite guy to race with side-by-side. Outside of maybe Brad JJ Mueller today – it would be pretty close between the two of them. Al and I raced hundreds of laps side-by-side and we never had a problem with each other. We'd race so hard then we'd go to the scales after finishing one-and-two and we'd be all sweaty and shake each other's hands and say, "Man was that fun!" I love to race somebody side-by-side, even if it takes 20 laps to get ahead of him. You start getting ahead a little bit, then they start coming back up…it's just that rivalry of that side by side racing that I absolutely love and I miss being able to do that with people today. I don't like laying a bumper to anybody. I'd just as soon finish behind them than bump somebody out of the way to advance. That's the way my daddy taught me when I was starting: "Lowell, I'm gonna tell you one thing. When you race somebody and you come up behind…it's gonna happen where you bump into them or you go to pass them and you slip a little bit and you get into them, you let that guy collect that race car. Let that car get straight, then you go back racing for the spot." That was the gentleman racing that was done in my dad's era and that he tried to instill in me.
Who do you need to thank?
Crew: Keith Kuchenbecker, Keith Theimer, Shawn Theimer, Jared Creaser, Jerry Schneider, Greg Evers. Sponsors: PMF Landscape Supply and there is one sponsor that has been with me since 1978 – John J Mayer. He's a long, long time sponsor of me and a good and dear friend. Dale Gas & Oil helps out with our turbo blue fuel. Wegner Auto does our engines; they've been wonderful to me. I miss Carl dearly; he was a very good friend of mine. Anyone else: #1 from Slinger – I gotta say thanks to Wayne Erickson. Wayne did so much for that place over the years; he did a fantastic job of building all the groundwork and basework for what we have. Back when he changed from 30 lap features to 60 – nobody else had the guts to do something like that. Now Todd taking it over and all of the staff at Slinger Speedway have been just fantastic. The Safety Crew is second to none. That safety crew has always been phenomenal; if I have to wreck somewhere, I want it to be at Slinger. My wife, Sue, is one of my huge supporters. She was raised into it; all of the cars I raced until 1986 had Blanchard Speed Shop on the hood. That was my wife's father. She's just such a huge supporter; she tells me sometimes, "Why don't you go race there?" Some wives don't want their husbands to race, but Sue loves it!
Do you have any pre-race traditions/superstitions/foods/etc
I just do whatever I normally do. I can eat a hot dog while I'm getting in the car, and I don't have any superstition. I do pray before I race. We absolutely can't overlook the fact that we have a Chaplain at Slinger like Jim [Zeirke] to put God's protections on us for the race. That's something overlooked by a lot of people. There's a lot of behind the scenes that goes on, and so many good staff that have worked there over the years. I'm really proud to be part of it.
What is your favorite racing memory at Slinger?
It would probably have to be the Nationals that I won that was impossible to win. At that time the Nationals were a two-race series in June and July. In 1997, I had just a fantastic racecar. Conrad and I were racing for everything at that time; Conrad was fast and we were fast – we were the two cars to beat at the time. I had just a fantastic car and I got out in the lead. We were halfway through the race and I had a half lap lead in. Then somebody spun down into the infield and they came back out into me and destroyed the car really bad. It was a hard thing, but we got the car back together. [At the start of the second race] it was numerically almost impossible for me to win the Slinger Nationals. We were awarded points for leading the race then, and I had led a bunch of the first race before we got taken out. But I would have had to win the race, Rich Bickle would have had to break, and I would have had to lead like ¾ of the race to collect enough points to win. And that's just exactly what happened. I won the race, led a bunch of laps, and Bickle's battery went bad, giving me enough points to win. There are other people I've enjoyed racing with down there. Conrad Morgan. We've had so many battles side-by-side. It's so cool that he's competing yet and that we get to race together. We have had an awesome time! People ask how many more years I have and I honestly think I have ten more years. I always say when I look at Conrad – he's ten years older than me and he's still doing it, so I have ten more years!
What is your real job?
My real job is I am self-employed, which means you gotta work harder than normal. My wife and I own Bennett's Auto [since January of 1984], selling and servicing import cars. When we are not doing that, we also own seven rental properties. My wife does most of the work with the rental property. My auto business takes up quite a bit of our time; there are five other people working here besides myself.
You and Sue are known, both in and outside of the racing community, for your generosity. What fuels that?
God has blessed us and anything that we can bless people with, it comes back to you tenfold. We love to help people around the racing community and around other communities. We fostered and adopted two girls years ago and raised them so I have a son, Braison and four daughters Season, Jurnee, Kaylynn and Jessica. Kaylynn and Jessica don't do any racing, but they are big followers and supporters!
Social media reports that you are now a grandpa?
At 62 years, I've become a grandpa! Braison and his wife, Megan, had a baby girl, Kendall, in October. Two weeks later, our daughter Kaylynn and her husband, Justin, had a baby girl, Delilah. It's wonderful, you know watching them grow; it's a wonderful thing.